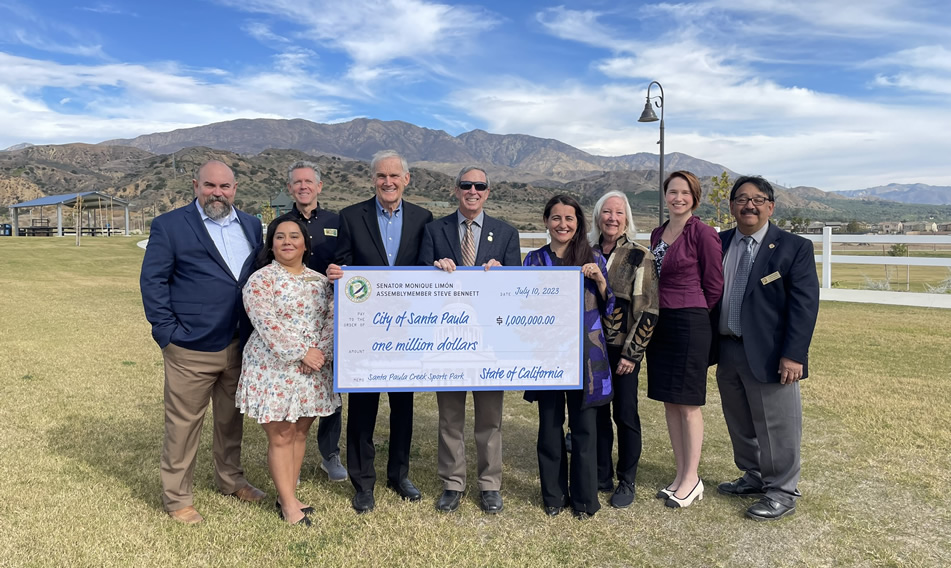 (VENTURA) Senator Monique Limón, alongside Assemblymember Steve Bennett, presented $1 million to support The Santa Paula Creek Sports Park buildout, a 37-acre sports and entertainment complex that will more than double Santa Paula's park space.
"Parks and outdoor green spaces are essential to the emotional and physical well-being of all Californians," said Senator Limón. "Santa Paula Creek Sports Park will offer children a space where they can play their favorite sports, families to build lasting memories, and a place where everyone can connect with nature. I am grateful I was able to secure this critical funding in our state budget, in partnership with Assemblymember Bennett, to provide Santa Paula with the park they deserve."
"Parks are essential to building a sense of community," said Assemblymember Bennett. "I appreciate Senator Limón's leadership in helping acquire this funding. I greatly value our partnership to meet our community's needs."
"On behalf of our City and greater community, we offer our most sincere thanks to Senator Limón and Assemblymember Bennett for championing the Santa Paula Sports Park," said Mayor Andy Sobel. "This $1 million dollars will provide improvements and amenities for completion of Phase 1, such as sports lighting and a second restroom. The entire park once complete will more than double Santa Paula's park space for our residents and will ensure adequate recreation and entertainment space for all."
"It's truly exhilarating to witness Senator Limon and Assemblymember Bennett championing the well-being of Santa Paula residents and our youth. Their dedicated advocacy, backed by substantial funding, is set to elevate the quality of life by actively contributing to the successful completion of Phase I of the Sports Park," said Vanessa Olmos, Santa Paula Parks & Recreation Commission Chair.
The City of Santa Paula currently has approximately 1.2 acres of park space per 1,000 residents, well below the recommended 9.9 acres that is recommended per 1,000 residents by the National Recreation and Park Association. The Santa Paula Creek Sports complex would offer residents access to a brand new 37-acre sports and entertainment complex. Once full funding is secured, the sports complex will be home to an amphitheater, soccer fields, baseball and softball fields, tennis courts, a community garden, an inclusive playground, and barbeque pavilions.